Josef, 22, has created Broadmarsh Re-Imagined: A Green Icon for Nottingham, an exciting and innovative new design for the Broadmarsh centre space in the Nottingham. The project, which Josef worked on with two friends from University College London, Loukis Menelaou and Nick Collee, was developed recently over evenings and weekends.

The trio's designs transform the half-demolished Broadmarsh Centre into an ambitious, green and community-focused space, featuring housing, vertical farming and an open-air performance area.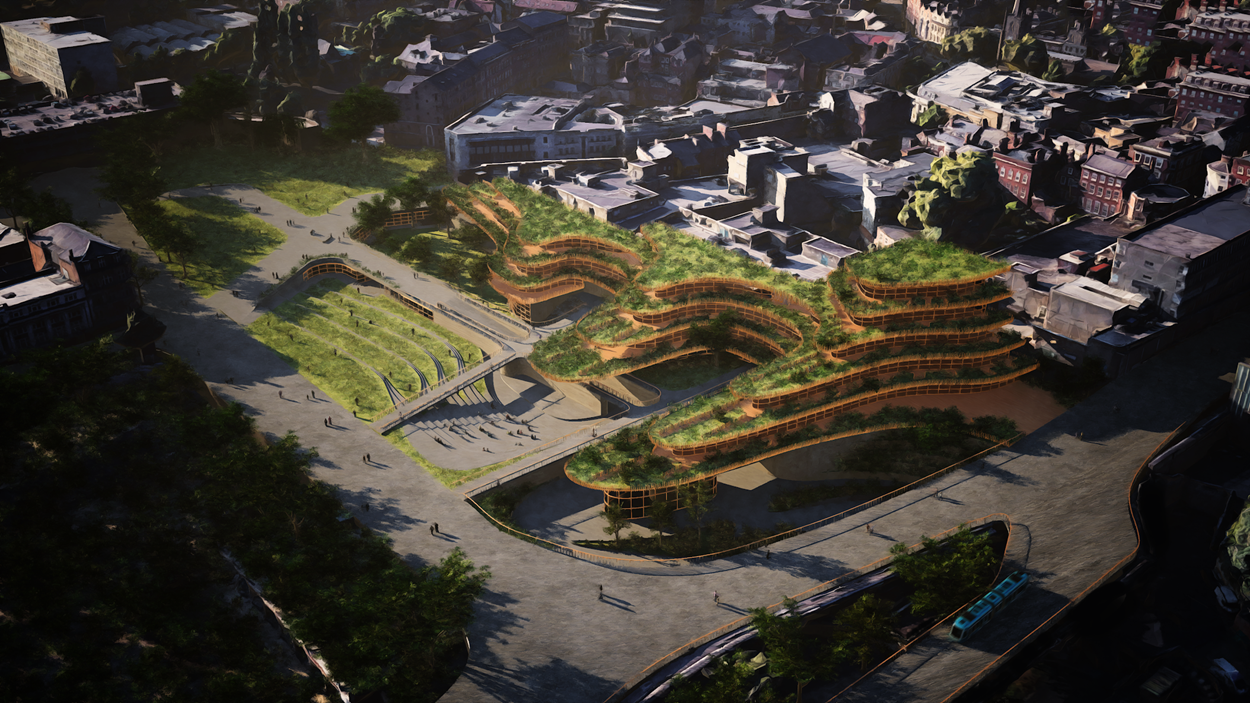 We caught up with Josef, who graduated from UCL in 2020 and is now working for architectural design firm Hayes Davidson, to ask him a few questions.

In 2017 you won the Young Creative Award for Architecture & Design for your vertical gardens project, where you created a tower block of allotments. What was the concept behind this imaginative design?

"Allotments are places where people make friends and help each other out. Not only that, with food security at risk, having space for people to take matters into their own hands would be great, as well as boosting the sustainability of our cities.

"Perhaps most important are the benefits for people's mental and physical health. Being outside, being active and seeing the fruits of your labour as a reward is an amazing feeling. Gardening is fun (and important)!"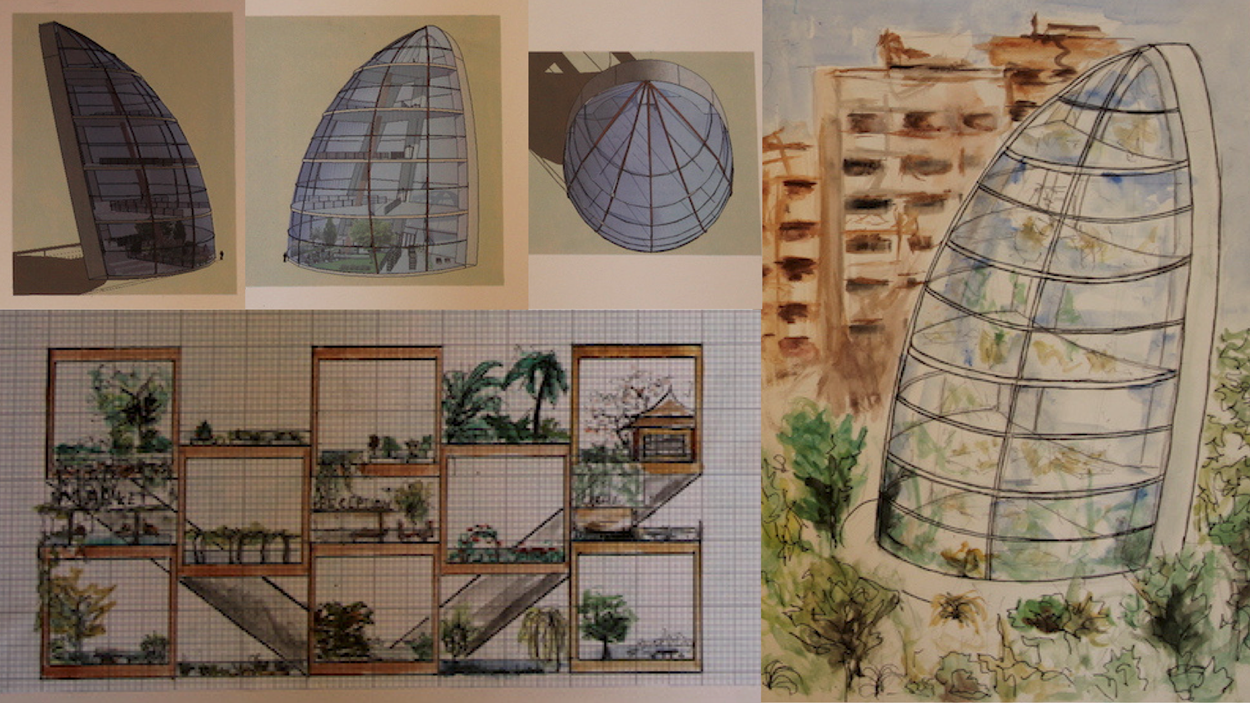 We love your recent designs for the Broadmarsh Centre space. How did this project come about?

"I've lived in Nottingham most of my life and the old Broadmarsh centre was a horrible place to be. When the council announced its demolition and asked for ideas, I got excited. Although the old building was horrible, the site is amazing, right in the heart of the city! I asked two friends from university if they wanted to help out; we were all in lockdown and had a lot of spare time in the evenings and weekends.

"Firstly we gathered references and inspiration from other projects around the globe. We then decided what features to include which would be specific to the needs of Nottingham. Secondly, we massed out the design to figure out the optimal circulation, where to best place the different parts of the programme and how best to use the sunlight. This led to the final shape of the scheme which has a large slope to face the sun, maximising natural light. The design language was born from blending the different aspects into one flowing piece.

"Finally, in order to present it, I imported the 3D model into a programme called Unreal Engine and downloaded Google Maps data for the surrounding city context. After lighting, texturing and adding assets such as people and vegetation, the renders were put into Photoshop for final tweaks."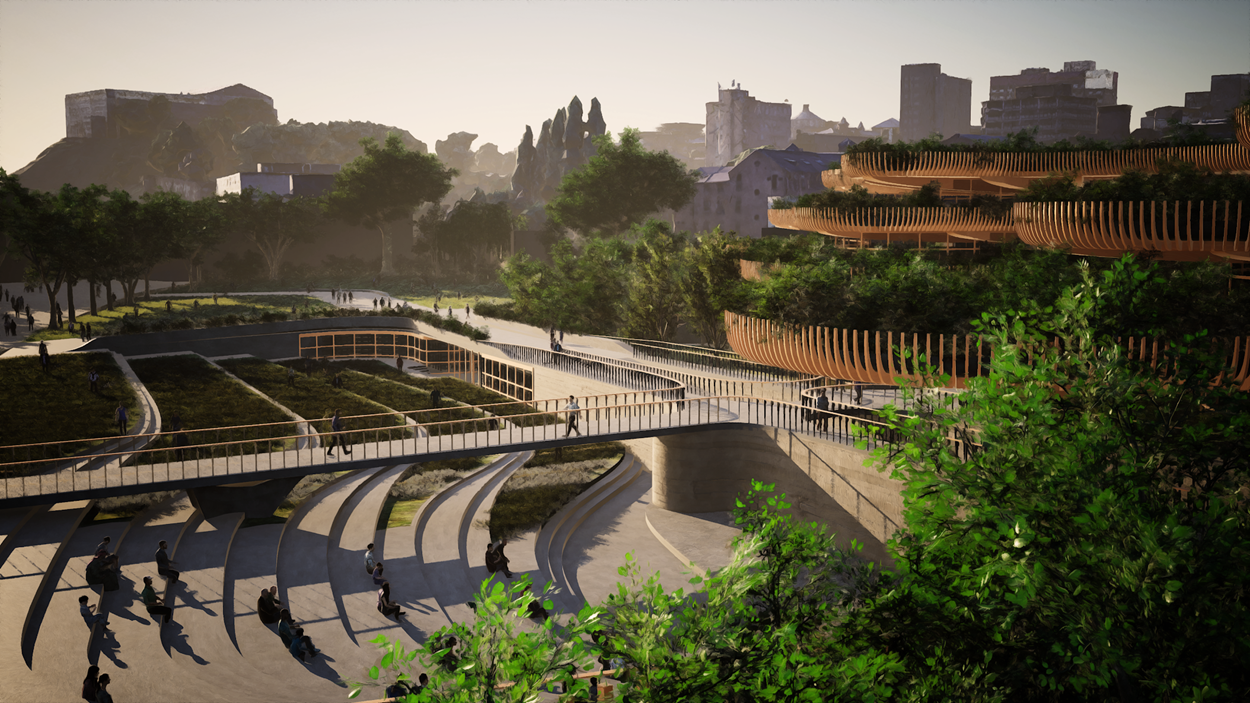 What have you been up to since winning the Young Creative Awards in 2017?

"After A Levels, I managed to gain a place at the Bartlett School of Architecture (UCL) in London, however I took a year out in between school and uni to work at a call centre and saved money to travel in a van around the States with a couple of friends. It was important for me to get out of the education system for a while. During the summer of my second year at uni, I worked with some friends to design and build an installation at the music festival Brainchild in Surrey. It was amazing to go from seeing the design as a little 3D model on the screen to watching people gather and chill out underneath it in real life."

You are currently working as a VR Unreal Artist for Hayes Davidson. What does that involve?

"Again working with Unreal Engine, I take the digital building models from architecture firms and create interactive and immersive experiences showing how the their building would look once completed. It's a really fun job because it's all quite new in the industry. The projects are also super exciting - one of the projects I'm currently working on is for a new orphanage in Tanzania run by a charity. The style is more cartoony and colourful compared to the usual projects."

What do you love about architecture?

"I love architecture because it's a combination of so many things: art, nature, technology, science and film among other things. It's like combining every discipline into one thing!"

Do you have any new projects coming up?

"I've just finished designing and building a 3D printer that prints ceramic/clay materials. I'm hoping to create small, intricate flower pots that are designed to be placed in bits of broken wall around the city, a kind of urban greening/street sculpture project."

What would you say to young people in Nottingham who are thinking of entering the Young Creative Awards this year?

"Failing is good! In your projects aim to learn new skills and push what you already have. Rather than taking the skills you have and making something, decide what you want to make first and then figure out how to make it afterwards. It's scary to set out not knowing if something will work or not but it will 100% pay off at the end. Most of all have fun!"

Alex Lipinski, Associate at Maber (sponsors of the YCA Design & Architecture category), was one of the YCA judges who first recognised Josef's talents back in 2017.

Alex expressed how pleased he is to see Josef developing his career:

"In 2017 Josef was category winner for Design and Architecture, at the time he was an A Level student at the very beginning of his architectural education. His designs for a vertical farm showed hints of the sensitive approach he would later apply in his proposals for the redeveloped Broadmarsh Centre.

"It is so good to see former YCA entrants, and in this case, a winner, getting involved in the discourse about such a key issue for Nottingham. Even more so when the project presented is of such high quality."
The 2021 Young Creative Awards are now open for entries. The deadline is 21 April 2021.