At the end of February 2022, a group of 9 winners and finalists from the 2021 Young Creative Awards took a train to Leicester to take part in "Making New Friends" - a specially curated day of creative activities, performances and collaboration run by UK New Artists. One of the participants - YCA2021 Creative Writing finalist Rhea Mann - very kindly agreed to write about the experience:

"Initially, I was nervous as I didn't know anyone there, but soon became more comfortable and relaxed when I met the group. They were all really welcoming and friendly so I never felt out of place, which was a good feeling to have considering I'd never really been to Leicester before either. I met up with the group at Leicester train station and we walked together to Attenborough Arts Centre, and waited in the café until everyone had arrived.
"To start off, we all got to know more about each other with ice breakers, which helped break any awkwardness any of us felt at the beginning of the day. After we were all more comfortable, we went down to an art gallery and walked around all the artworks, writing down on a piece of paper any thoughts we got from each piece. The gallery was a great introduction to different kinds of art and the different forms/ meanings they can inhibit. There were videos, sculptures, paintings and more. I particularly took a liking to a 5-minute video an artist ["Fine I'll do it myself then" by Claye Bowler] made where they sculpted a female's chest and placed it against their own, slowly picking at it until the chest sculpture broke into pieces. I loved that piece, not just for the meaning it held with body dysmorphia, but also how it showed me the different ways you can showcase your art and make it more immersive.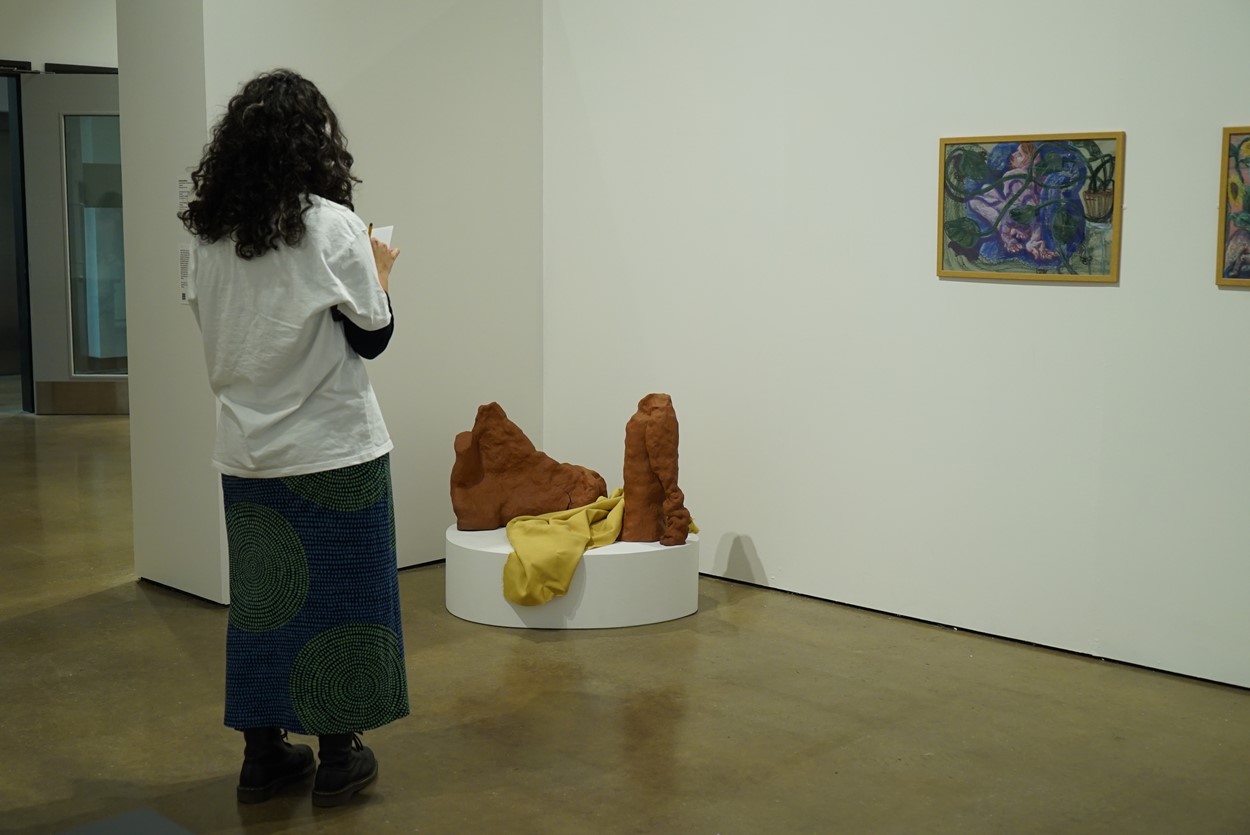 "Next, doing a workshop with artist Kirsty Kerr was such a fun and eye-opening opportunity as she talked us through her art and the meaning behind it, and then helped us try to find our own inspiration through creating lino prints based on map points all over Leicester. Each one of us from the group created a unique approach to the same starting point, showing how art flourishes in its own way for people. It was really interesting to see how everyone else found their vision for that project. Kirsty Kerr was such an amazing person and I had a great time in her workshop.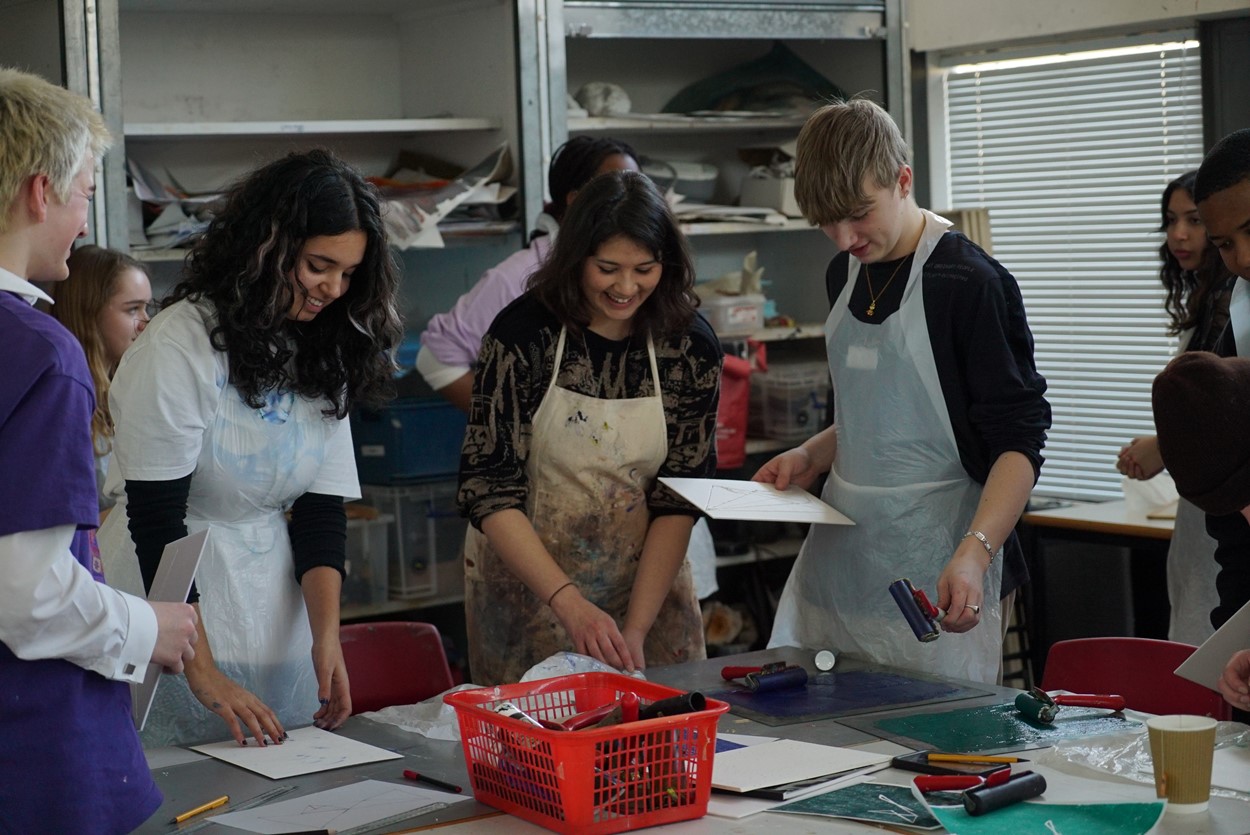 "In the afternoon after lunch, we watched performances by artists Ben Nobuto with his music, and Meriem Jouti with her poetry. Ben Nobuto's music piece with a visual and sound projection behind him was such a mesmerising performance. The music was in sync with the visuals and his silhouette playing the piano in front was eye-catching too. The simplicity of the piece's imagery really helped the performance reach into making people think more about the meaning behind each choice he made.

"The poetry by Meriem Jouti, to me, was surreal as I am always biased towards a good spoken word performance. But it was surreal to me mainly because of her poetry alone. Each piece felt personal and deep to her and that made the readings so much more insightful and alluring. Her pieces about her mother stood out to me the most, as although the words were sometimes critical, the love was never lost in the meaning. I found her writing to be so complex and thoughtful that I became an instant fan and have been inspired by her for my future writing. Even after the performances, we got a chance to speak with the artists and I got nervous when asking my question because as an aspirational writer I really admired Meriem's work. Each performance was such a lucky opportunity to see and I am thankful for seeing each one.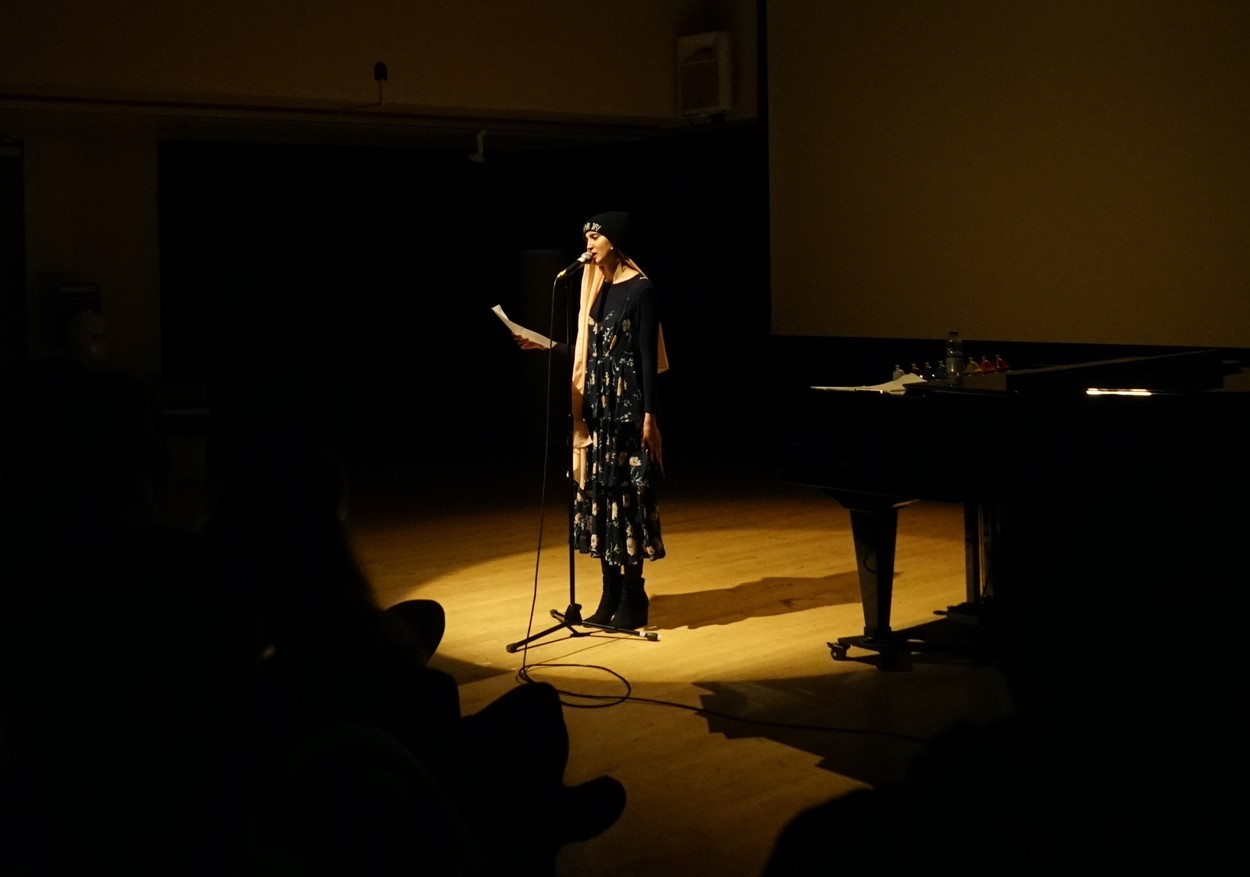 "We watched some other performances by Kieran Spiers and Sean Wai Keung. Kiernan's theatre piece showed serious topics and subjects but also had its funny moments to balance the piece out. The audience participation with a man coming out to take part in a game of Jenga with Kiernan was really different to what I've seen performance-wise before and I was really invested with the compatibility of him with the man from the audience.
"Sean Wai Keung's piece focused on Asian heritage and hate, with Sean pulling out facts and statistics from fortune cookies. Whilst watching I could feel the amount of effort and thought that went into the performance and it made the facts being said so much more explicit. With the serious nature of the subject, Sean aggressively crushing the fortune cookies and letting the crumbs fall to the floor whilst holding a neutral face added a sense of humour to the piece as well.

"Finally, before we left, we had a Q&A with musical artists, Hannah Fresgaard, Jay Johnson and Matt Smith. They talked about how they find inspiration and how they incorporate it into creating their music. This was a really nice experience to sit down and talk with artists with a bit more experience in the field and how they came to be where they are now and the steps they took.
"Overall, each piece and every artist that my group and I watched on our trip made the journey worthwhile and an enjoyable time - with their own artwork influencing us in some way to continue to develop our own. I am so thankful that I got to have this experience as I made new friends and have opened myself to future opportunities in the arts community.

"If I could do it again, I would."